Christmas Fun with Colin and Rocky's Print and Colour.
Colin and Rocky are having lots of Christmas fun.
They have been to the shops to buy Christmas presents for all their friends. Also, to make 'Coastguard Cottage' more festive and help Colin and Rocky have more Christmas fun, they have bought a beautiful big green Christmas Tree. 
Whilst Colin and Rocky were Christmas shopping in Tideswell, it started snowing. So with the help of all their friends, they built a Snowman and had loads more Christmas fun playing snowballs!
Join Colin and Rocky and have more Christmas fun by Clicking on an image to download it and colour it in.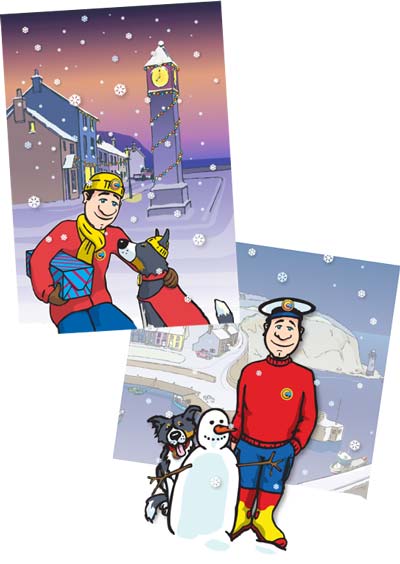 Christmas fun making Colin and Rocky's Christmas Card.
Christmas fun – download and make Colin and Rocky's special Christmas Card.
How many of Colin and Rocky's friends can you spot in the Choir?
Can you find Mistie and Frisky?
What colour are Colin and Rocky's hats?
Click on an image to download the card and instructions for making it.